Our Story
Everyone has a story to tell. God made us all unique for a reason. The twelve He chose were not only different from each other, they were profoundly different from Him. As the Good Shepherd, Christ was the ultimate Fisher of Men and as such He knew the value of different temperaments and personalities within the church He built upon Peter.
Under this dispensation of GRACE God is not interested in constructing buildings, He is passionate about building people as His church. We value everyone and believe everyone should feel the love of the Savior coming through us. It is not the role of the church to judge each other. Jesus simply calls us to love. Once someone is introduced to the love of Jesus, it is the grace of His Holy Spirit that will convict us to live as He desires each of us to live.

Founder / Senior Pastor - Sean Cort, M.T.S.
Our Senior Pastor Sean Cort has amassed over 30 years of ministry wisdom and experience in his eclectic career. His vast knowledge base originated in New York City in leadership and as a radio personality, voice over talent,  journalist, talk show host and producer, in advertising, marketing, branding and political consulting. Pastor Sean also left an indelible mark in the branding and marketing genius of Florida Hospital and the Walt Disney Company.
In 1998 Pastor Sean relocated to Orlando and drew great acclaim for his first love of radio as the midday personality of Smooth Jazz WLOQ/103.1 and eventually as a weekend host for WOKB/STAR 94.5FM. Pastor Sean's last corporate role was the leader of Disney's photography, video, multi-media design and vendor Relations. He then became a Consultant with the Disney Institute in the area of creativity and leadership development.
His consultancy with the Walt Disney Company helped in developing his own consultancy to  churches nationwide in church growth, discipleship training,  the Five-fold ministry and leadership development. As stated in our vision and mission statements, Pastor Sean's primary narrative is showing you how to maximize your intimacy with the Spirit of God. Pastor Cort has faithfully served and led churches as a former Associate and Assistant Pastor.
As a columnist for Psychology Today, he enjoys breaking down the character of discipleship to those who have been turned off by "Christian behaviors." Pastor Sean currently owns a publishing company with over 287 titles in publication worldwide and as such he thoroughly understands the value of everyone's story and how they tell it. As an Equipper and Bridge Builder, Pastor Sean believes the best markings of a leader are displayed when the genetic switch is engaged in someone who never thought or were told they were special or a leader. This empowerment leaves an indelible mark in this life and the one to come. He brings his repertoire of skill sets to what he calls his most satisfying role yet, being a servant leader.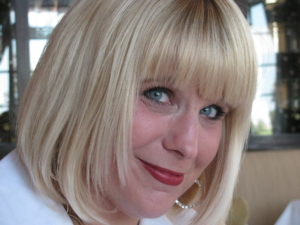 Administrative Pastor - Deborah Cort, 
RN, MSN, NEA-BC
One can say that Pastor Deborah has been a prodigy in the health care industry from the moment she graduated nursing school. During her short stint in bedside nursing, hospital administration quickly saw her primary gifting in leadership and being a change agent. Pastor Deborah quickly rose through the ranks at some of the most prestigious healthcare institutions in the nation. After 30 years in hospital administration and leadership, Pastor Deborah is now a consultant to various hospital systems nationwide.
Pastor Deborah brings her passion for wellness and the need for community health literacy to the body of believers in hopes of bridging the cavernous gap that exists in the evangelical world between good health and being spiritually grounded. Pastor Deborah is a strong advocate of the church being a central access point for the community to obtain information and services that can be of benefit to the entire family.
Meet the Team
Freedom Perspective Ministries has been in development  for over five years. Our leadership team is comprised of the most gifted servant leaders that our Senior Pastor has ever encountered. He considers it a God-given honor to be assembled with such a distinguished group that he knows will serve our Savior and His people well.
Pastor Eric Hylick
Associate Pastor - Marriage and Empowerment
Pastor Eric is a marriage/relationship strategist, author, speaker and co-owner of Marriage Can Win. He holds an MBA degree and he is an ordained minister thru International Seminary and founder of Covenant Kingdom Builders ministries. He has hosted numerous business and ministry conferences in addition to being a guest speaker at STEM and ministry conferences throughout the nation. He has a proven track record as an engineer and business executive in the Information Technology field. Pastor Eric and his wife Sakeisha Hylick will be aiding in the areas of our Marraige, Pre-Cana (pre-marital ministry) and our discipleship classes.
Dr. Sakeisha Hylick
Associate Pastor Marriage, Women and Empowerment
Dr. Sakeisha is a leader in the Healthcare Arena as a registered pharmacist and has served in the leadership capacity for companies for the past 14 years. Pastor Sakeisha holds her Doctorate degree in Pharmacy and also is a marriage/relationship strategist, author, speaker and co-owner of Marriage Can Win.  She is also an ordained minister thru International Seminary and she is co-founder of Covenant Kingdom Builders ministries. Pastor Sakeisha has hosted numerous business and ministry conferences in addition to being guest speakers throughout the nation.
PASTOR HEATHER JACKSON-REED
ASSOCIATE PASTOR WOMEN AND YOUNG ADULT WOMEN
Heather Reed is a woman of God accustomed to undertaking great challenges and a firm believer in the Word and demonstration of the power of God. She is a passionate leader with over 20 years in education and holds Master's degrees in both Career Development and Educational Leadership. She is considered in her field as an instructional coach, resource professional and relationship builder. She is passionate about empowering individuals with the resources needed to reach their fullest potential in Christ Jesus and soar with their strengths. Pastor Heather contends in the faith as a driven warrior.
Dr. Teresa Boland
Associate Pastor- Wellness, Evangelism and Outreach
Dr. Boland also likes to be referred to as Hadassah. She is a Fellow of the American Academy of Anti-Aging/Regenerative Medicine. She is a Psychiatric Advanced Registered Nurse Practitioner and a Licensed Marriage and Family Therapist. In addition, she holds a certification in Sports Nutrition as well as a diploma for Dietary Supplement Counselor (Dip. DSC). Hadassah is certified in Critical Incident Stress Debriefing, in Clinical Hypnotherapy and as a Trauma and Loss Specialist and Consultant. She has held certification as a Bereavement Facilitator and as a certified Supreme Court Family Mediator
Pastor Torres Reed
Associate Pastor- Young Adult Men and Deliverance
Pastor Torres Reed has given his life to God and has been on fire with a mandate of being a presence driven warrior commissioned by the King of Glory. This passion for God's Glory has allowed him to assist many ministries in building  a strong membership base by empowering their young adult men. Pastor Torres has a strong anointing for healing and deliverance where the people of God received bond-breaking freedom for the mind and body. Pastor Torres has also led various ministries in intercessory prayer, armor bearing, security, evangelism and men's ministry. Pastor Torres has worked in the Information Technology field for over 20 years.
What to expect when you visit...
We want everyone who visits to feel comfortable. So please come dressed comfortably. The first time you visit you are our guest-The next time you visit-you're family!
Please plan to join us for Sunday morning worship at 10:30 at our temporary location:
The Clermont Arts and Recreation Center.
3700 S. Highway 27
Clermont, FL 34711